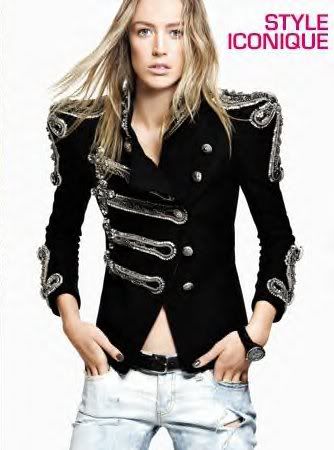 Okay then.
I saw a picture in LA Times on May 17. Actually, DH saw it first :)) He's very savvy that man. Soooo, I've been collecting pictures and info. Turns out there was a lot of hoopla surrounding this jacket and the celebs that wore it. It sold out on Net a Porter within 24 hours (three total at a charming $14.000 a pop).
Then MJ passed away. A lot of people likened the jacket to his trademark style, which I get. But, it's also a lot more feminine. I found a blog where the guy (yes, another savvy man) keenly observed how the shoulder pads are shaped to give the illusion of the shoulders of a very waif-like woman (in other words; runway-skinny, anorexic shoulders.) A far cry from the eighties and "Dynasty".
The muslin is taking shape, I'm using BWOF 02-2008-105 as a start-off point. The sleeve/shoulder in the Balmain collection is quite unique; here's another of his jackets on Rhianna:
I'm studying the trim as much as I can from the pictures.
Edited to add link to close-up of trim:
Looks like pearls, rhinestones and some kind of gemstone like onyx. There's also a silver chain within the twisted pearls. And a bunch of something resembling washers! I'm not sure how close I will get to all this but I'm giving it my best shot.
If you have some suggestions for the trim, I'm all ears. I can't seem to locate the silver colored tiny pearl trim you can see next to the crystals, and also those crystal-encrusted curved thingies that lie over the black gemstones. Planning to go to the hardware store to look at washers, but they may just be too heavy.
I got some superb double crepe wool which I think will work perfect. It's heavy enough yet has a natural give, which is good due to the close-fitted design. I'm using a stretch charmeuse for lining.