That is the question.  Like
Melissa
, I started contemplating this the other night. I'm a terrible planner when it comes to sewing. I love using silk and anything that sparkles :-), yet my day-to-day life is basically jeans and tees. We're going to Chicago in the beginning of September to do a third (and final) workshop of our bio musical, so I have a good excuse to add some 'sparkle'... "my kind of town"... and all that jazz :)
My one and only time in Chicago was back in the early eighties. Don't remember much since I was already severely overworked and sleep deprived from months on the road with "Up With People". Yeah, and now that that's out the box- horrible I tell you- I'll get back to the more pleasant aspects. My DH lived in Chicago way back in the days, he was part of "Second City". I'm really looking forward to see the places he's talked about.
Sooo... looking at my clothes, the timeline and my stash, there's only one choice: Black. And then I'll add silver for sparkle :-)
I just fell in love with this blouse from YSL Rive Gauche. The black one. But look at how they hang on the form; the white has the closure in front whereas the black is in the back. What's up with that? The surprise of those cascading flowers down the back is so gorgeous IMO, what say you? I haven't draped it yet, just making the flowers at the moment.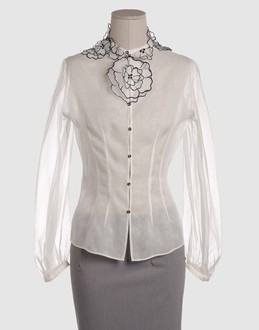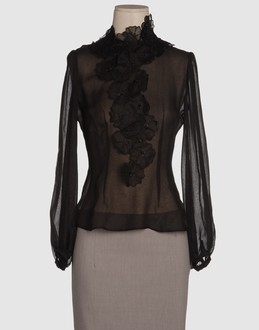 I'm using silk organza and silver metallic thread (steil stitch), stabilized with tear away and solvy in the hoop, and I go between computer and machine to change the sizes. I think the blouse is chiffon and the bodice is underlined with organza. Suppose I'll wear a cami underneath, not much of a 'showing bra' kinda girl. Here's the link to yoox
YSL BLOUSE
I'm thinking to do one more blouse and a skirt and pants. But I have to do it step-by-step. I'm too much of a control freak and have to see everything as I go along. I so envy those of you who can pull together such fantastic storyboards. And then make them!!
On time!!
Maybe one day... It was quite hard to vote in the Wardrobe Contest.
Marji's
guidelines were very helpful, and I ended up voting for the one I felt was most pulled together and suited the person best.
Finally, thank you all so much for stopping by and taking the time to leave such wonderful comments. You brighten my day and help motivate me. And you also make me better at documenting the process and to include my thoughts- a quite new experience since I'm on the quiet, shy side. (always was, unless I was on a stage :-) )